How I Finally Got Out of My Way & Decided to Own My Space
It's time to get really real with y'all.
I pride myself on removing the veil that separates us online, and letting you see the real me. The undone, messy, uncut Tiffani.
(Which is a big reason I decided to ditch Instagram as a business networking outlet.)
But I recently realized I'd still been hiding a little bit – even from myself.
In the spirit of conquering some major fears, I finally decided yesterday to brand myself as my name, Tiffani Purdy, from the various iterations you may have seen: The Aloha Mama, Fair+Frugal, Sprout + Sage… Never really me.
I've come to realize that I was doing that for a reason. I was avoiding really putting all my cards on the table, playing for keeps, and asking the world to give a damn.
That shit's scary!
I realized that, while I've been mostly real with the people following me, I've never really shared my story.
Talk about practice what you preach, huh, Tiffani?
So settle in, boo! Grab a cup of coffee. This is going to be a long one.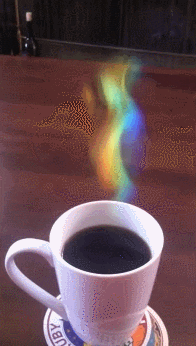 I remember the moment I realized my 'normal' childhood wasn't quite so 'typical'
From the outside, I had a pretty normal childhood. I lived in a nice house for most of my childhood and adolescence. I had a set of parents who cared about me. We went on vacations in the summer time, and I was actively involved at school. I was a writer and a singer, and my top priority was getting the best chorus solos.
What most people didn't know was that my biological mother was a drug addict, in and out of jails and rehabs after her addiction really came to light in the wake of my parents' divorce.
At the age of 5, I was taking care of my mother, instead of the other way around.
I made it my own mission to get to school, even when I'd wake up to an empty house when my mother disappeared for days or weeks on end. Thankfully, I didn't live this way for too long, and my father got custody of me before I turned 6, when he married my step-mom (AKA the woman who would become my real mom, the woman who raised me).
My dad was a kind, loving man who tried his best in every area of his life – except for his health. Ultimately, my father would shortly join my biological in revolving doors of rehab for his alcoholism before passing away at the young age of 42.
Looking back, my father's death greatly affected… just about everything.
I was only 14 at the time of his death, coping with all of this, plus the emotional aftermath of dealing with the trauma from things that happened before he passed. And that wasn't really him, it was his disease, but a 14 year old has a difficult time making that distinction.
He had been my best friend, and I was hurt, confused, guilt-ridden, and deeply depressed.
My teenage years were full of psychotherapy, prescribed pills meant to make me happy, lots and lots of weight gain and struggles with body image, an addiction to self-harm, and suicidal thoughts.
I hated everything about taking those pills. I knew I needed to actually deal with my problems, and this just wasn't the right solution for me.
Now, I'm not saying that this approach doesn't work for others – but it just wasn't right for me. I was still deeply depressed, just more of a hollow version of that deeply depressed version of myself. I lost all interest in almost everything in my life. I slept through as much as I could.
As I got older and stepped into early adulthood, I looked for help and love in all the wrong places. I partied a lot, sometimes very recklessly. Between the situations I'd put myself in and being a woman standing at a whopping 4'10", I'm honestly lucky to be alive.
I allowed people to abuse me, mentally, emotionally, and physically. I didn't respect myself, so why would anyone else? I told myself, "I don't deserve that kind of love."
I had been shown time and again that this was true. I was cheated on. I was raped. I ended up homeless on more than one occasion. I was often alone.
And just when I'd find myself getting on my feet, the rug would inevitably get pulled out from under me.
After dropping out of high school and getting my GED, I took a semester at a community college. I got appointed to the managing editor position after writing TWO articles for the paper. This position secured me totally FREE tuition, including books.
Two weeks before school started, just a week after moving into a new home with my fiancé at the time, he came home and broke up with me. I was devastated – and alone. I had moved to this town, this state for him. I had no one else and nowhere to go, so I gave up the scholarship and the position and went home and started over again.
I became the MASTER of starting over.
I dropped 90 pounds without dieting or exercising myself to death.
If I had a job interview, I got the job. (With just a GED! No completed college degree.)
If I wanted to make friends with someone, I did.
If I wanted to start a business, I did.
When I wanted to jump on a plane and go to Hawaii with only a backpack and 10 cents in my pocket, I did it.
And it was the greatest experience of my life. (Don't tell my kid!)
My time in Hawaii was deeply transformative – I was finally learning how to set myself free & just be.
Coming home, I tried to keep that feeling of aloha alive. I breathed love into all of my interactions. I sang loudly while walking home from work. I danced when I felt moved to do so.
My, oh, my. That felt good.
Whenever I tell this story, people always say something like, "omg you're so brave! I could never do that!"
Honestly? Yes, you fucking can. There is absolutely no reason that you can't take a big, bold action that you feel like you MUST take.
When you've got a sign from the Universe, pay attention to it.
Before I left for Hawaii, I was looking for a new way out. I wanted to avoid living a life attached to money (before I really learned what it means to change your money mindset), and suddenly, I was bombarded with little signs from God telling me to get out to a farm in Hawaii.
I'd flip through the channels on TV, and every single channel would be airing some Hawaiian-themed show or movie.
Or I'd be wasting time on StumbleUpon and find the exact resource I needed to find to get out.
Or I'd dream about beautiful places I'd never been but felt so familiar at the same time.
I'm no better or braver than you. I just honored the idea that Source put in my heart and mind, and followed the path laid out for me.
You are worthy of the joy that comes with following your intuition and trust falling into the loving arms of the Universe.
I am bursting with joy to be tapping back into that intuitive space, casting aside all doubts, and trusting in the gifts I've been given. It is my duty to help other women conquer their inner mean girl, their inner critic, that voice that tells them "no, you can't," and show them that there is another way to live.
And I've got to tell you, the feeling of fully stepping into your space is like magic.
I find myself bawling my eyes out sometimes just because I am so damn happy doing what I do. Every meeting is a miracle. Every woman I communicate with is a goddess. Every exchange is a holy experience.
I highly encourage you to take some time today/tonight/whatever – I don't know when you're reading this, I'm not that kind of a psychic – and pull out your journal and do this exercise I do with my clients:
You deserve to live the life of your dreams. Don't let your limiting belief system hold you back. You can own your space & use that story to empower you.
As scary as it was, it has given me back all the power in making the decision to share my story and own my space. My story doesn't own me anymore. It's the other way around. I'm the master of my destiny and the co-creator of my reality.
I would love to hear about your story! Share with me in the comments, and let me know where you're going to be in 10 years.